BEMACON Scale Integration for SAP®-Packing-Station (WINRSC)
To get the weight of a handling unit at the SAP
®
-packing-station (transaction
HUPAST
) the SAP
®
-ERP-System
provides a standard interface.
Through this interface almost all scales can be connected, which have a computer interface.
On the local PC where the packing station transaction is used, a server program has to be installed, which is called by the SAP
®
-system when the user presses the button to weigh. This server program then communicates with the connected scale and returns the weight back to the SAP
®
-system.
Our
WINRSC
server is compatible with this interface.

Bild : packing station: transaction HUPAST
The scale can be connected by the following interfaces to the PC:
RS232 interface directly
RS232 through COM-Server (Adapter RS232 to Ethernet)
USB-Interface ( with Adapter-cable through virtual COM-Port )
Ethernet-network ( TCP/IP e.g. UDP ) with integrated network card of the scale
HTTP ( via Scales-Dispatcher )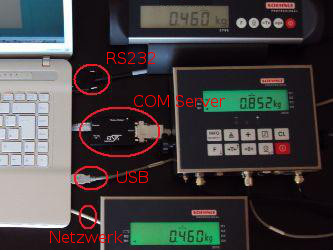 Bild : Scale Integration Packing Station: supported interfaces
The SAP
®
-system communicates directly with the application. ( utility scale_for_R3.exe from SAP is not mandatory )
The interface requires a user to be logged on via local
SAP®-GUI for Windows®
.
If no SAP-GUI is used we offer the Windows Service
WINSER
as alternative with equal functionality.
Besides the packing station, the interface can also be integrated into any other ABAP™ development by calling
function module
HU_GET_RFC_DATA
( see
ABAP Example
)
WINRSC
is compatible with the scale protocols of the following manufacturers:
A&D
Avery Weigh-Tronix
Avery Berkel
BILANCIAI
BIZERBA
BOSCHE
CARDINAL
DINI ARGEO
EPELSA
ESSAE
FLINTEC
Giropes
Gomba
GSE
HARDY
HBM
KERN
MESOMATIC
Mettler
MICROGRAM
OHAUS
PCE
PENKO
PFISTER
Philips
Radwag
RAVAS
RHEWA
Rice Lake
Rinstrum
SALTER WEIGH-TRONIX
Sartorius
Schenck
Sensocar
Setra
Soehnle
SysTec
UNIVERSAL
Utilcell
YINGHUA
You have questions ? Then visit our
FAQ
---
SAP®, R/3® and ABAP™ are registered trademarks of SAP AG in Germany and other countries.
All other names of products and services are trademarks of their respective companies.
---