BEMACON Dispatcher for Scale Connection (PHPWD)
The Scales-Dispatcher is a web service, which accepts weighing requests via HTTP and forwards them to the scales.
The requests are thereby translated into manufacturer specific weighing commands.
The Scales-Dispatcher is the core component of each weighing connection.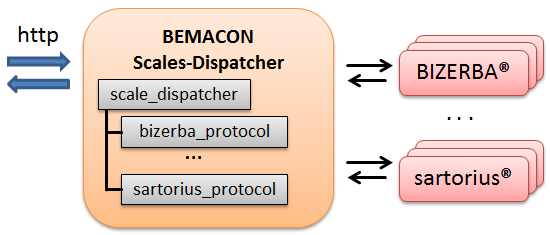 Bild : Scale Connection Dispatcher

The scales themselves have to be network-capable, i.e. they already have an own network interface card
or they are attached via serial connection (RS232, RS422) to a COM-server, which in turn is attached to the company network.
Alternatively the BEMACON Net-Com-Adapter can be used, which emulates the function of the COM-Server on a PC.
Prerequisite for the Net-Com-Adapter is a local COM port on the PC.

As central service the Scales-Dispatcher is accessible by every HTTP-capable computer.
Once connected your scales are accessible from all over your company network.

The Scales-Dispatcher can run on an existing PHP-capable web server or you simply install the
open source Apache® web server within your local network.


The scale connection is compatible with the protocols of the following scale manufacturers:

more weighing scale adapters on request.
---
All names of products and services are trademarks of their respective companies.
---