BEMACON Alibi Memory for Scales (PHPAS)
The Alibi Memory is an optional add-on module, which serves for archiving of measured values, which were returned from the scales.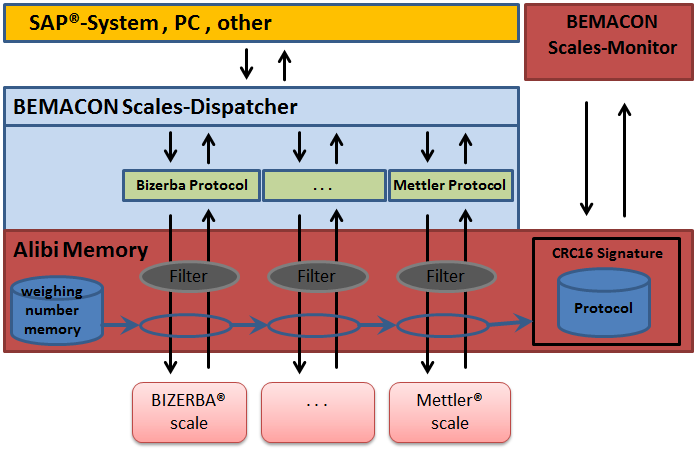 Bild : alibi memory for scales

If the Alibi Memory is installed on the Scales-Dispatcher, then a unique weighing number is created for each weighing operation to identify exactly this weighing process.
This number together with the weighing details are stored in a log file on the Scales-Dispatcher.
The storage capacity of the Alibi Memory is limited solely by the free disk space of the Scales-Dispatcher.
An additional signature is calculated on the basis of this record using the CRC16 encryption procedure and stored together with the data record. This signature provides protection against accidental or intentional manipulation of the log files by means of common software tools like text editors.

In particular, the following information is stored:
weighing number
date and time
scale-Id, scale number und scale protocol
connection data of scale (Hostname and Port)
gross weight including decimal point and unit
tare including decimal point and unit
CRC-16 Checksum
The weighing results are returned only after successful storage of the log data. For this purpose the log data is read again after saving it.
In case of an error an error message is returned instead of the weighing results.
In addition a protocol specific filter checks for allowed scale commands. Invalid commands lead to error messages and are not forwarded to the scales.

To check and display the stored data records the Scale-Monitor is used.

---
SAP®, R/3® and ABAP™ are registered trademarks of SAP AG in Germany and other countries.
All other names of products and services are trademarks of their respective companies.
---